As businesses continue to navigate an ever-evolving landscape, the importance of staying agile and adaptable has never been more crucial. Yet, despite the numerous benefits of SAP S/4HANA, many organizations are still hesitant to make the switch from their legacy SAP ERP Central Component (ECC). This resistance may stem from a variety of reasons, ranging from change management concerns to financial burden, lack of understanding of the upgrade benefits or just feeling comfortable with what they've got.
But here's the thing – the longer you wait to switch to S/4HANA, the more you risk falling behind your competitors. In this blog, we're going to break down why businesses need this transition to S/4HANA if they want to stay ahead in today's fast-paced business world.
SAP's End of Support for ECC
SAP has announced that it will be cutting off standard support for current ERP systems, including ECC, by 2027. Although SAP had extended the end date from 2025 to 2027, businesses will still need to consider alternative solutions, such as S/4HANA, to avoid leaving their systems vulnerable or facing expensive extended support.
How does this impact your business?
An outdated system will keep you occupied in maintaining and managing the ecosystem with limited functionalities and capabilities
Diminishing services from SAP partners who would be busy future-proofing their own business
Lack of support for routine enhancements and security patches
Inability to respond to business challenges with incompatible systems
Higher cost for extended support from SAP on maintenance of potentially fragile systems
You would never like your business to get impacted this way. The smartest businesses are already on a path of transition to S/4 HANA, safeguarding their future.
Why Switching to SAP S/4 HANA is NOW critical for your business?
1) Avoid the transition wave in 2027 by planning early
Many businesses might wait until 2027 for the migration which could create a shortage of expert SAP professionals, making them more expensive. If you procrastinate now, you might find yourself competing against a lot of companies for SAP resources – and they might not have time for you due to the sudden wave of S/4 HANA migrations.
Since the system migration can be complex, it's advisable to make the switch sooner than to wait till the last minute
2) Make a quality conscious move by avoiding last-minute rush
If you plan your S/4 HANA migration now, luckily you get some leeway to plan things out properly. You get enough time to plan the process in length, perform data-driven analysis, arrange back-up, and fix pitfalls alongside time and resource allocation.
A last-minute rush can end up with major quality issues, mistakes, business interruptions, and challenges with change management. Your transition is supposed to be more successful and smooth if it is less time-intensive with no pressure to meet deadlines
3) Make the most out of your IT investment
Investing in legacy ERP and customization is regressive, especially when SAP is phasing out investment in ECC and focusing on S/4 HANA. Embracing SAP's innovative solution in the form of S/4 HANA that promises more value is like future-proofing your system, processes, and business as a whole.
Planning an S/4 HANA migration now and investing money on that makes a lot of sense considering what the future holds and how it will keep you ahead of the curve.
4) Grab expert SAP consultants before they are booked
It's not too far in the future when the deadline would be looming closer and the demand for expert SAP consultants would skyrocket making them expensive and unavailable. At Tilli Software, we are already backed by a team of Certified SAP Consultants with years of hands-on experience in SAP consulting, migration, implementation, and support that can make your S/4 HANA migration a breeze.
You can get ready with the strategy and plan of execution beforehand that would save the cost of hiring expensive consultants in the future when demand would be too high.
S/4 HANA Benefits for the Businesses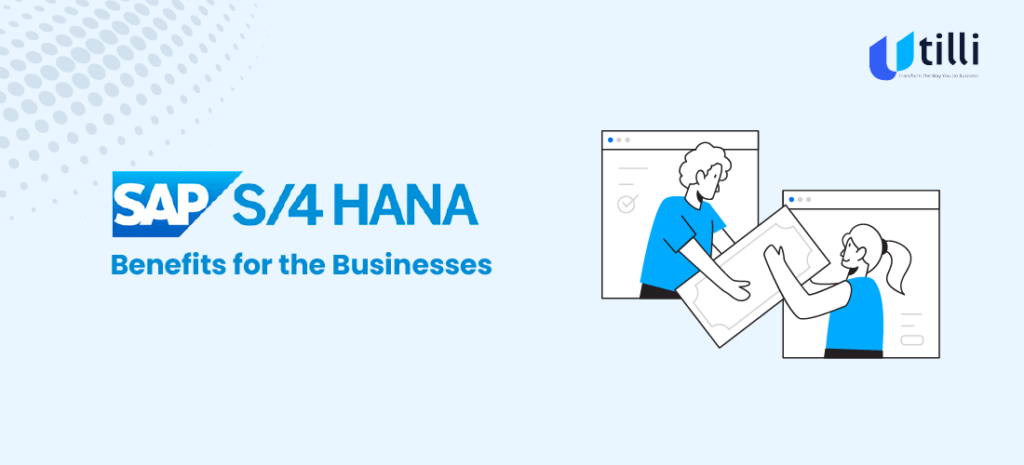 Migrate your existing SAP ERP or legacy system to S/4 HANA utilizing our proven methodologies, tools, and accelerators
Leverage our ready-to-deploy accelerators and pre-configured solutions that significantly reduce your implementation time and ensure easier deployment
Get assisted by our expert consultants who will help you make better decisions for reduced cost and optimized implementation time
S/4 HANA Approach
| | | |
| --- | --- | --- |
| Greenfield | Brownfield | Hybrid |
| Starts with an altogether new and clean process | Can be a change or an add-on to your existing SAP ERP's | Suitable for an SAP or non-SAP ERP |
| Suitable for an SAP or non-SAP ERP | Can be hosted on-premises | Can be hosted in cloud or on-premises |
| Can be hosted on-premise or cloud | Retains your existing data, processes, and customizations | Combines different ERP systems |
| Does not interfere with ongoing business process | | Does not interfere with existing business process |
Learn more about how Tilli Software can design a smooth S/4 HANA migration pathway for your business. Talk to our experts!